A range of fresh flowers chosen by an experienced florist in either pastel tones or vibrant colours delivered to the customer safely through their letterbox.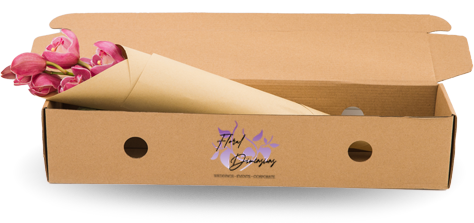 In keeping with our overall philosophy of keeping things as natural as possible, our boxes are made of recyclable cardboard, and our Kraft paper and raffia used to protect and secure your flowers during transit, are also recyclable as is our instruction leaflet. The flowers are well-conditioned prior to packing and are carefully placed in the box in such a way as to minimise damage to the buds and stems during transit. Of course, the flowers will look dehydrated and some petals and leaves will be a bit creased on arrival. However, if the recipient follows these instructions the flowers will soon rehydrate and give days of enjoyment.
prepare a clean vase with water and the flower food provided,
recut the flower and foliage stems
Arrange the flowers and foliage in the vase.
These will be the florist's choice of assorted pastel coloured flowers and complementary foliage.  While we cannot guarantee the types of flowers used, you can be assured that the florist's choice is always beautiful with delicate, soft romantic colours and a distinctive feminine feel.
Examples of previous letterbox flowers are illustrated below.
Jug/vase is not included.
Vibrant colours are so cheerful and bring joy to the recipient. Flower varieties cannot be guaranteed but as this range is designed by an experienced florist, we can guarantee that the flowers and foliage will be bright and cheerful and will look stunning when arranged in a vase.
Examples of previous letterbox flowers are illustrated below.
Jug/vase is not included.
Terms and Conditions for ordering our letterbox flowers:
When you have made your choice of flower collection, Pastel or Vibrant, please indicate your preferred delivery date.
Our flowers are sent by Royal Mail
Next day delivery is currently not an option.
Royal Mail do not deliver on a Sunday nor on a Bank Holiday Monday
Some post codes in the UK are a forty eight hour delivery service, for example some of the Scottish Islands and Northern Ireland. Please keep this in mind when placing your order.
Ideally we require 48 hours to process and dispatch your order
The cards included are only small so please keep the messages short. Offensive messages will not be transmitted.
By continuing with this order you agree to the above terms and conditions.